Valerie Beverly, Senior Service Specialist 1 Peoples Gas
What is your role at Peoples Gas and within the Safety Modernization Program (SMP)?
I'm a Senior Service Specialist 1 and a member of the Local 18007 union. A key part of SMP includes removing gas meters from inside homes and installing new ones outside each home so they can be connected to a modern, safer, more reliable and more environmentally sustainable system.  I oversee these meter removals and installations at multi-unit residential buildings and commercial buildings.
What is a typical day or week like for you?
When we're about to start work in a building, I schedule the work with the building owner, and survey the site to see exactly what needs to be done and what supplies are needed. My team then inspects all appliances — heating systems, water heaters, ranges, anything with a pilot light.  We need to make sure there are no leaks. Then we turn off the gas, remove the old meters, and install new meters on the outside of the building. So once the meters are installed, we connect them to that gas main, turn the gas service and appliances on, and makes sure everything is working as it should.
This is very tough work. Do you like doing it?
Yes, I enjoy what I do. And I'm also proud to be doing it. I know the job I do each day is providing energy to keep people warm in winter, and to enable them to cook and have hot water. I like getting to meet our customers. I appreciate it at the end of a day when they thank my team for doing a great job. That feels good.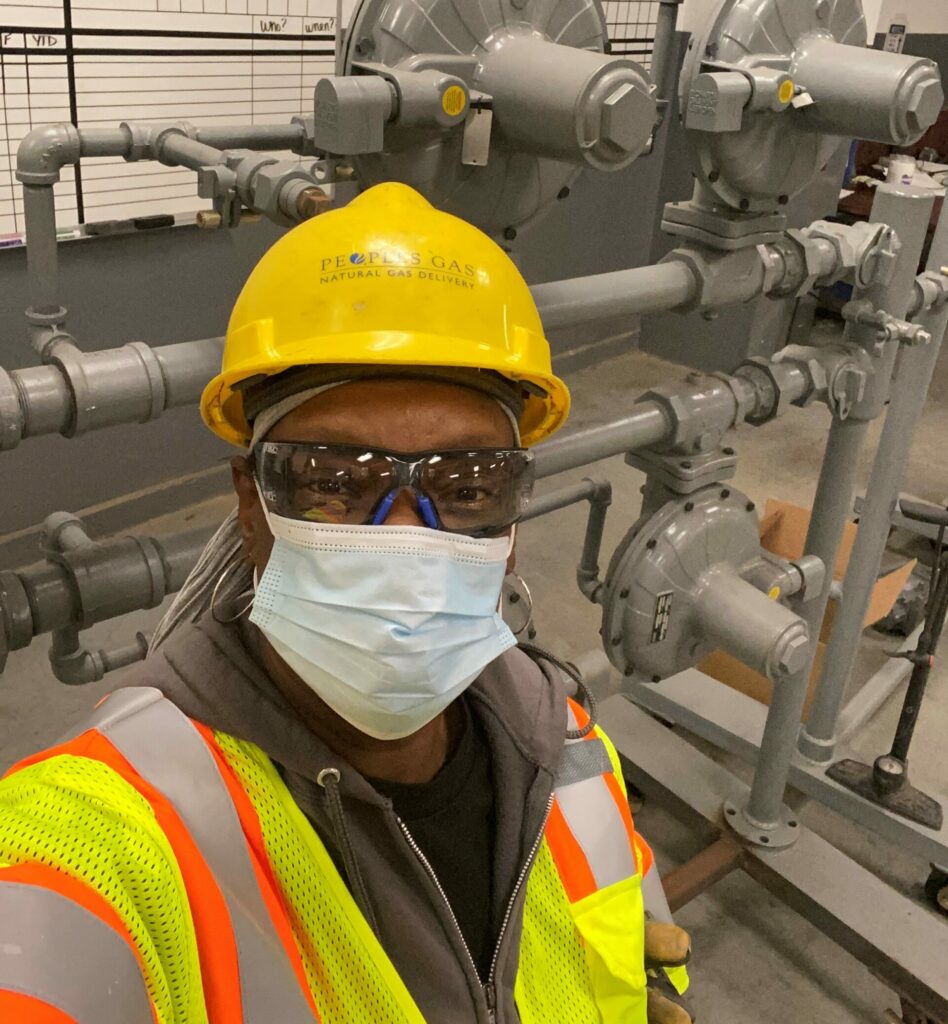 Tell us about your career growth at Peoples Gas.
I've been with Peoples Gas for 26 years. I started as a meter reader. I was looking to advance so I could take care of my children, and I was given an opportunity in a role called a Helper. My team fixed leaks and handled other issues that needed immediate attention. I worked at night, so it was a relatively slower pace and a good environment to learn about how everything works and how to fix things. I then became a Service Specialist, then a Number 2 Service Specialist, and ultimately a Number 1 Service Specialist.
It also means a lot that I'm a woman doing this work. I'm happy the company and my union gave me a chance to learn and grow. A lot of people I worked with over the years were very encouraging. Now, I'm one of the key people our company turns to for pipefittings, and the only female who does fittings in large buildings. I want to open doors for more women to do this work.
I also led a union safety program at our South Shop called PEACE, which stands for Planning Effective Actions And Controlling Exposures. As a company and a union, safety is always top priority.
Tell us a bit about your life outside work.
I raised four children who are proud of my work, and I'm proud of them too. I like watching mystery thrillers and listening to jazz. On Sundays, I go to church. It's when I reflect on things and get ready to go forward. My faith rejuvenates me.